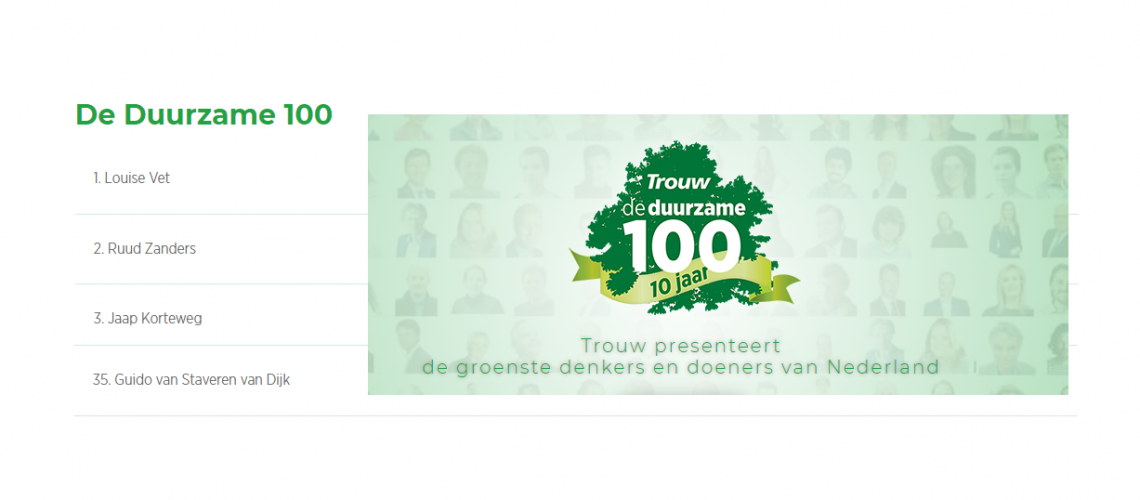 Moyee hoog in de Trouw duurzame 100
Natuurlijk maar een dwerg vergeleken met het magnifieke werk van de nr 1 Louise Vet maar toch een belangrijke erkenning voor de FairChain innovatie die Moyee heeft gerealisserd en dan te bedenken dat we pas 20% hebben laten zien van de geplande impact en er nog vele innovaties aankomen ook op het gebied van biodiversiteit. Onderaan vind je ons FairChainFarming plan. Blijf ons volgen dus.
Dit deltaplan is de reden waarom na de scores van de jury de ecologe op nummer 1 is beland in de Duurzame 100 van 2018. 
Hoe het is met dat Deltaplan Biodiversiteit? Nou, het gaat de goede kant op. Maar het is er nog niet. Voor de zomer van 2018 zou er een tekst liggen, toen werd het september, inmiddels is eind ­oktober het streven. ­Louise Vet (1954) kiest haar woorden ­zorgvuldig, het proces achter gesloten deuren is fragiel. "Het ligt heel gevoelig." Wie doorvraagt, stuit op half ­afgemaakte zinnen, aarzelingen, onuitgesproken twijfel.
"Zonder samenwerking met alle betrokkenen, zoals ­bedrijven en banken, is verandering een illusie", stelt Vet in haar ruime, lichte werkkamer in Wageningen. "Als je uit principe niet met al die partijen praat, dan bereik je niets", verantwoordt ze de keuze om iedereen aan tafel te vragen. Maar gemakkelijk is het niet. "De vergaderingen zijn vaak bij de Rabobank in Utrecht. Als ik dan terugreis, denk ik ook weleens …" Vet breekt haar zin af met een zucht, ze spreekt haar gedachten niet uit. Ze neemt haar rol als onafhankelijk voorzitter serieus.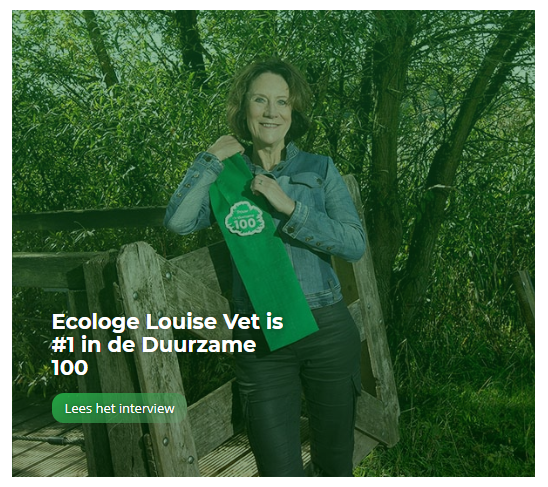 The FairChain Approach   
FairChain Farming means farmers and workers earn living incomes and wages by managing profitable farms and getting involved in value added activities, in order to improve livelihoods and communities.
We are putting this into practice in Limu, Ethiopia, where the FairChain crew teamed up with 350 smallholder farming families, embarking on a 'Road to Living Income'. The Roadmap involves 3 specific stepping stones: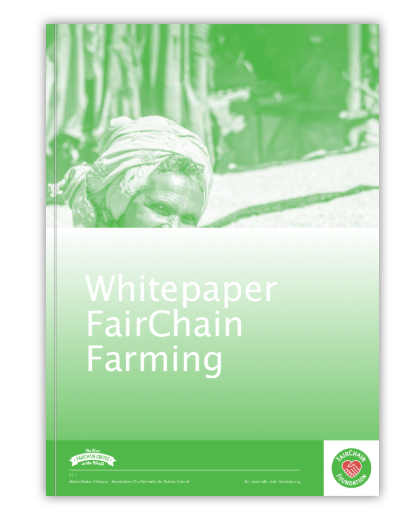 1. Work within the current system
Maximize the yield and quality of what smallholder farmers produce within the current limitations of their small plots 
2. Invest in co-managed washing stations
Value adding activites will bring higer earnings to the farmer communities.
3. More scale, more efficiency
Adress the issue of scale but keep biodiveriosty in place