It is not easy to find a hole in the agenda of Guido van Staveren van Dijk, the flamboyant founder of Moyee Coffee, who knows how to combine ideal and capital like no other. The best man, dressed informally and a 21st century entrepreneur's beard, has an eclectic curriculum vitae: he studied in Leiden, Moscow, London and Chicago. After that he lasted three years as a Trainee at KPN. The suit was too tight.
At 29, he set up tradingcars.com, raising millions in funding. Later, many new companies followed, which Guido launched with varying degrees of success. After a business setback, a fire in a sawmill in Eastern Europe, he came to his senses. He decided to revolutionize the coffee industry and set up the world's first 'Fairchain Coffee Company': Moyee Coffee. Guido is now almost seven rounds away. In a frank conversation I met Guido. We talked about coffee, Rijkman Groenink, entrepreneurship & online marketing. Who's the mastermind behind Moyee?
Was the suit too tight at KPN?
"Yes, indeed. Large companies like KPN have a large management middle layer that is difficult to break through as a young dog. I soon found out that doing business is more my 'cup of tea' and now 'cup of coffee'."
Tell us about your adventure Tradingcars?
"It was crazy. I remember very well that I gave a presentation with two friends in a roadhouse and before I knew it we had five million euros in investment from the colorful businessman Roel Pieper. In total, we have raised 15 million euros in investments and built a company of 50 people. Unfortunately, sales were disappointing and we eventually sold the company for a compensable loss. We were a little too far ahead of our time. If we had been five years later, I would be a multimillionaire by now."
What's your biggest lesson here?
"Be careful about spending money quickly. First, try to find a product-market combination at the lowest possible cost and then scale up with large investments."
What did you do after that?
"I then set up a company in Eastern Europe: a window factory, the first komo certified factory outside the Netherlands. This company grew like a fighter jet and I built it up from zero to about six million euros in sales. Unfortunately, the factory caught fire and the insurer refused to pay out. This was a difficult period for me as an entrepreneur, both financially and mentally."
What's your biggest lesson here?
"Eye for detail. I should have had the insurance contracts checked more closely by a lawyer."
Who else think Guido is?
"Well, good question! In the article The Conscience: fair chain coffee, Vrij Nederland formulated an answer to this question: Van Staveren van Dijk is anything but the typical world improver. He is a young businessman with what he describes as a 'corporate career'. He was educated as an economist, including at the University of Chicago, the cradle of neoliberalism. More or less coincidentally, I came across a website with figures about the coffee world. I was perplexed: how is it that the price of coffee has risen 200% in the last ten years, while the price that farmers receive is falling? Where's all that money? If Nestlé and George Clooney get rich, so can my Ethiopian partners. The coffee market needs to be radically turned on its head."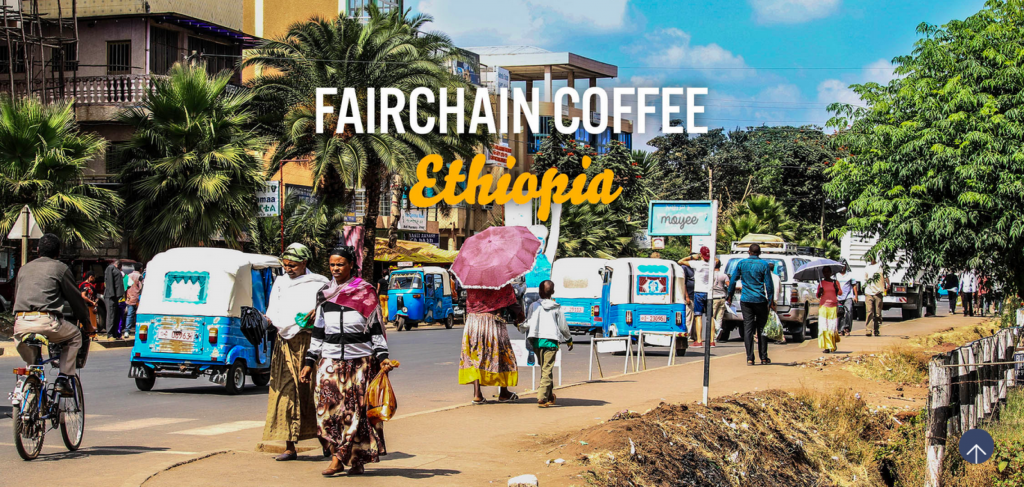 Mr. Fairchain. It's a nice idea. What does it mean?
"The Moyee Coffee is roasted in Ethiopia, which makes it radically different from fairtrade products. Fair trade is wonderful, but you'll have to wait a long time for a poor country to get rich. Fair chain goes beyond fair trade. Fair trade focuses on raw materials, such as coffee beans. We focus on the whole chain: from bean to fires to sales. That's where the real money is earned, so that's where you can make a difference."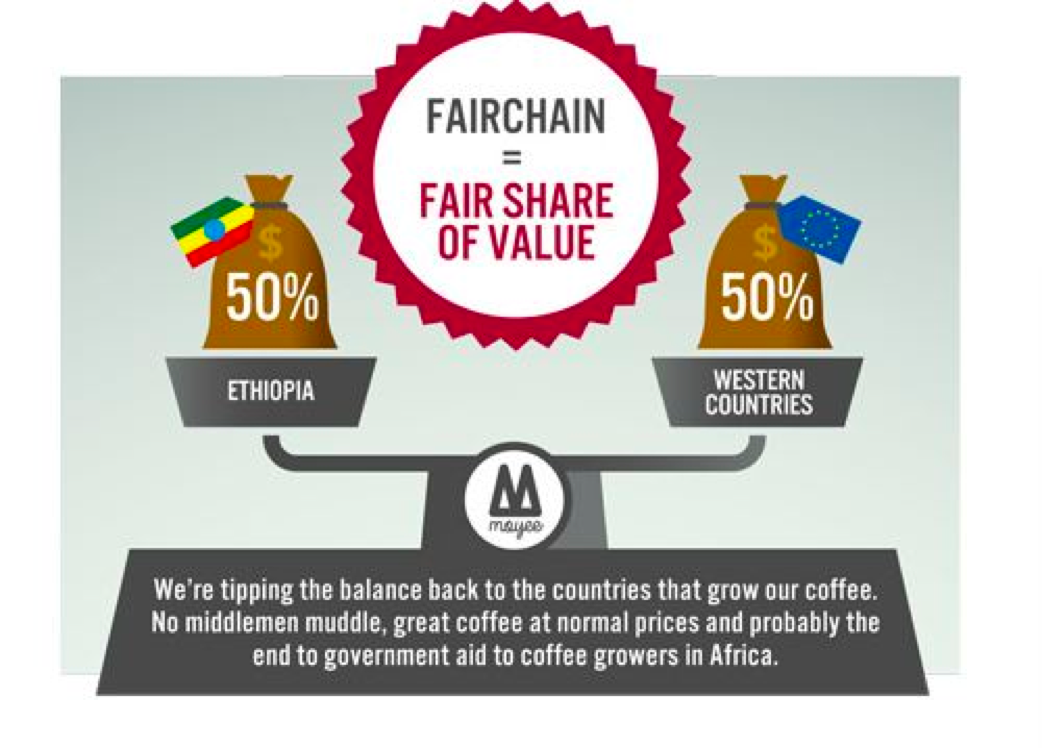 Do the local farmers really benefit?
"Yes, definitely. Our mission is to improve the world, starting in Ethiopia. The coffee farmers get a storage for their beans above the local market price. Moyee's profits largely go to projects and companies that further develop the fair chain idea. But above all, we want to show that poor countries that export raw materials are very capable of processing their own products. They are entitled to a fair place in the production chain, so that the greatest added value does not just go to foreign companies. And what can be done with coffee, can also be done with peanut butter or chocolate."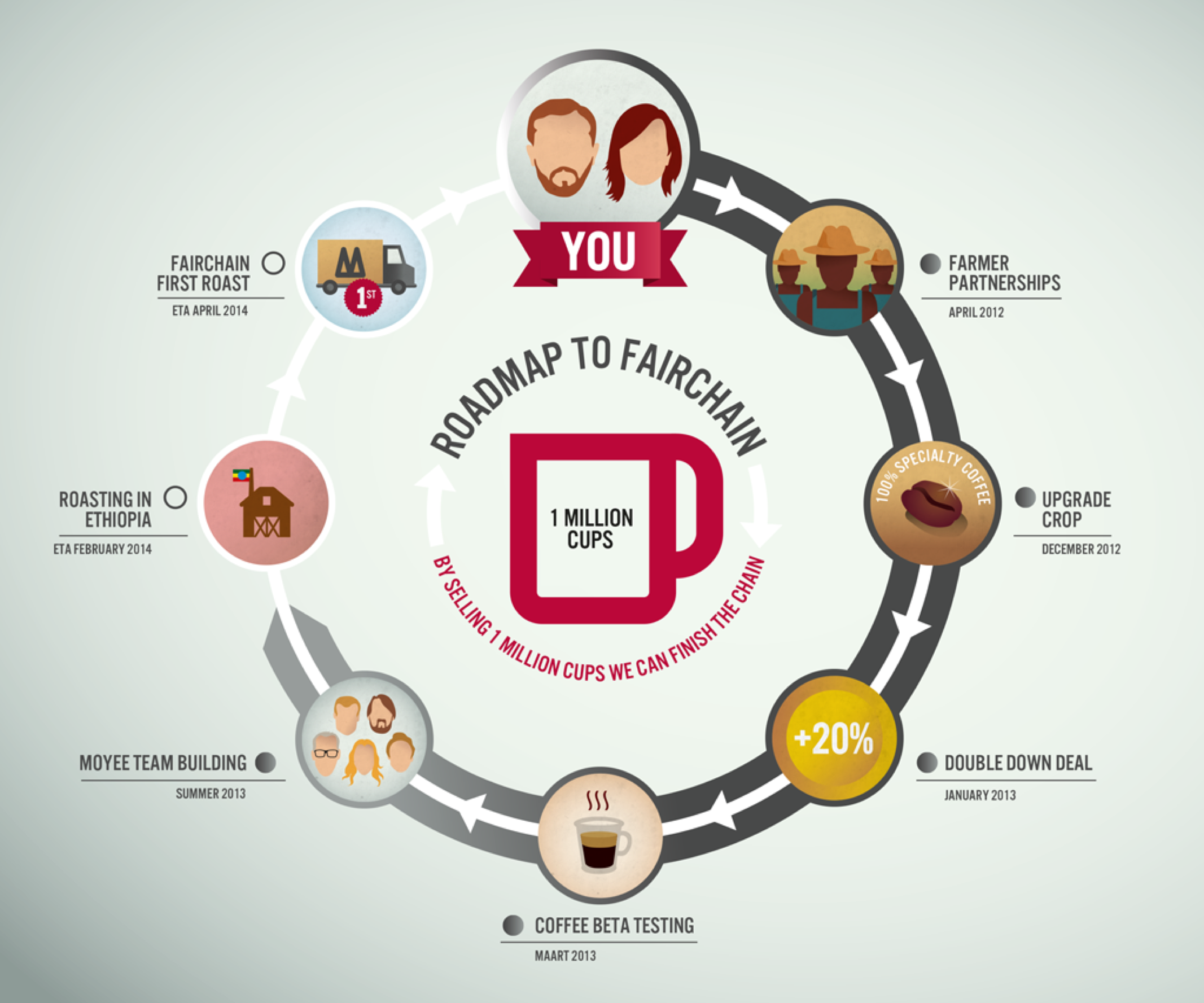 You're affiliated with B Corp. Why?
"Watch the video below for the answer to your question."
How does the coffee taste?
"Can birds fly? Do you always ask rhetorical questions in your interviews? Moyee wants to sell high-quality coffee, so-called single estate coffee, which sub-separates from slobber coffee like a Mouton Rothschild does from a Hema house wine. That works damn well: the taste is more layered and nuanced than the more expensive beans of Illy or Lavaza. Test it yourself through www.moyeecoffee.com".
I understand the concept. Let's talk about online marketing. What's your strategy?
"Online (e-commerce) focus on more traffic and higher conversion rates. When generating traffic, the main focus will be on the smart use of limited budgets. 'Growth hacking' on caffeine: different types of campaigns on different channels, constantly testing and tweaking to hit right tone of voice in combination with target audience.
"In addition, ensure that the generated traffic converts optimally. Conversion optimization based solely on data. Initially general concepts relating to CRO (conversion rate optimization) and then by means of A/B testing with landing pages also to know and recognize the particulars and needs of the 'Moyeesta'. Stripped back to the essence: what works and what doesn't, and on that basis continue to make adjustments on the website to keep achieving growth."
How do you handle data?
"Data-driven obviously goes beyond optimizing the conversion ratios on the website. Filling the database with data creates intrinsic value not only for Moyee as a company but also for the visitor. Think of personalization of the website and e-mail campaigns where content is adapted to the behavior and interests of the visitor. Is the lead interested in the fairchain story or just the quality? Coffee or a machine?
"Automated profiles generated from algorithms initiate visitors/leads/customers to the right funnel where the marketing is fully in line with the behaviour they have exhibited online. This not only achieves a huge profit in efficiency and effectiveness of (online) marketing, but also builds a better relationship with your customers. Finally, you understand and feed their needs and are therefore relevant and top of mind."
Is this only for B2C or also for B2B?
"For B2B, this marketing automation is integrated with CRM, enabling them to take full advantage of profiling and thus separate the chaff from the wheat. This will prevent time and resources from being invested in the wrong prospects and being shot at the real targets instead of blanks."
What is your online marketing DNA?
"Moyee is playfully provocative and we try to stand out with striking marketing campaigns, such as the 'Moyee Coffee is fairer than life' campaign in collaboration with advertising agency 180. Every quarter we launch a new campaign, which we have been quite successful with so far. We believe in the power of 'Crowdspeak', where our customers tell the story of Moyee to other people. It remains a challenge to convert this to sales."
Why haven't you got B2C off the ground online yet?
"I worked a lot with millennials who had a lot of talent but didn't have any concrete 'online marketing skills'. We made wrong IT choices and didn't have enough budget in the beginning."
Speaking of budget, how much do you spend per month on online marketing?
"€8K per month + the cost of a number of marketers. We spend this on social media, Google AdWords, banner campaigns, etcetera."
What campaigns have you come up with so far?
"A popular campaign is : 'Under the influence'. For example, the video below has been viewed more than 100,000 times. Moyee tries to break taboos in a provocative way and we do so with this campaign in which we let people taste "stoned" coffee."
I understand the concept. Let's talk about money. How did you fund Moyee Coffee?
"In 2010 Renzo Martens made the documentary 'Enjoy poverty'. Inspired by this documentary I started analyzing the coffee chain in 2011/12. I found out that there had to be a shift in value in the coffee sector, so that more money would end up in the local farmers. Initially I set up a Foundation. Later this slowly shifted to a BV, because that legal structure offers better the possibility to raise funding and thus reach the 'Fairchain' idea. In total, we had seven rounds of funding."
"Financing round 1: Initially I invested €100K "seed capital" myself. This I have mainly used for making trips to Ethiopia, hiring some people and renting an office.
"Rating: N/A
"Financing round 2: Then four friends and I all invested €25K with a total of €125K in exchange for 30 percent of the shares.
"Valuation: €417K"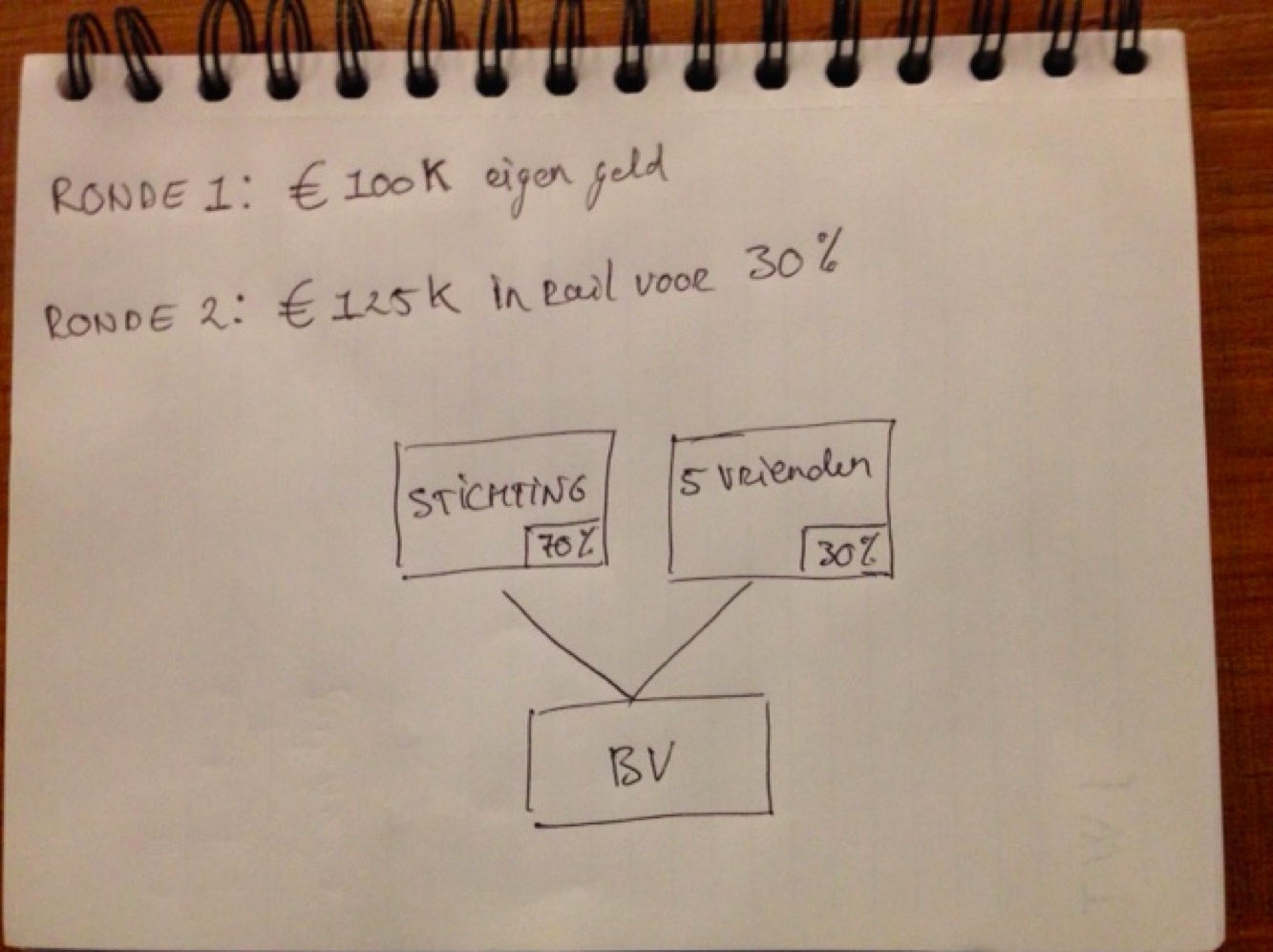 "Financing round 3: In this round, four informal investors have all invested €50K with a total of €200K. They demanded that the Foundation structure be removed and converted into a BV structure.
"Valuation: €1 million euros"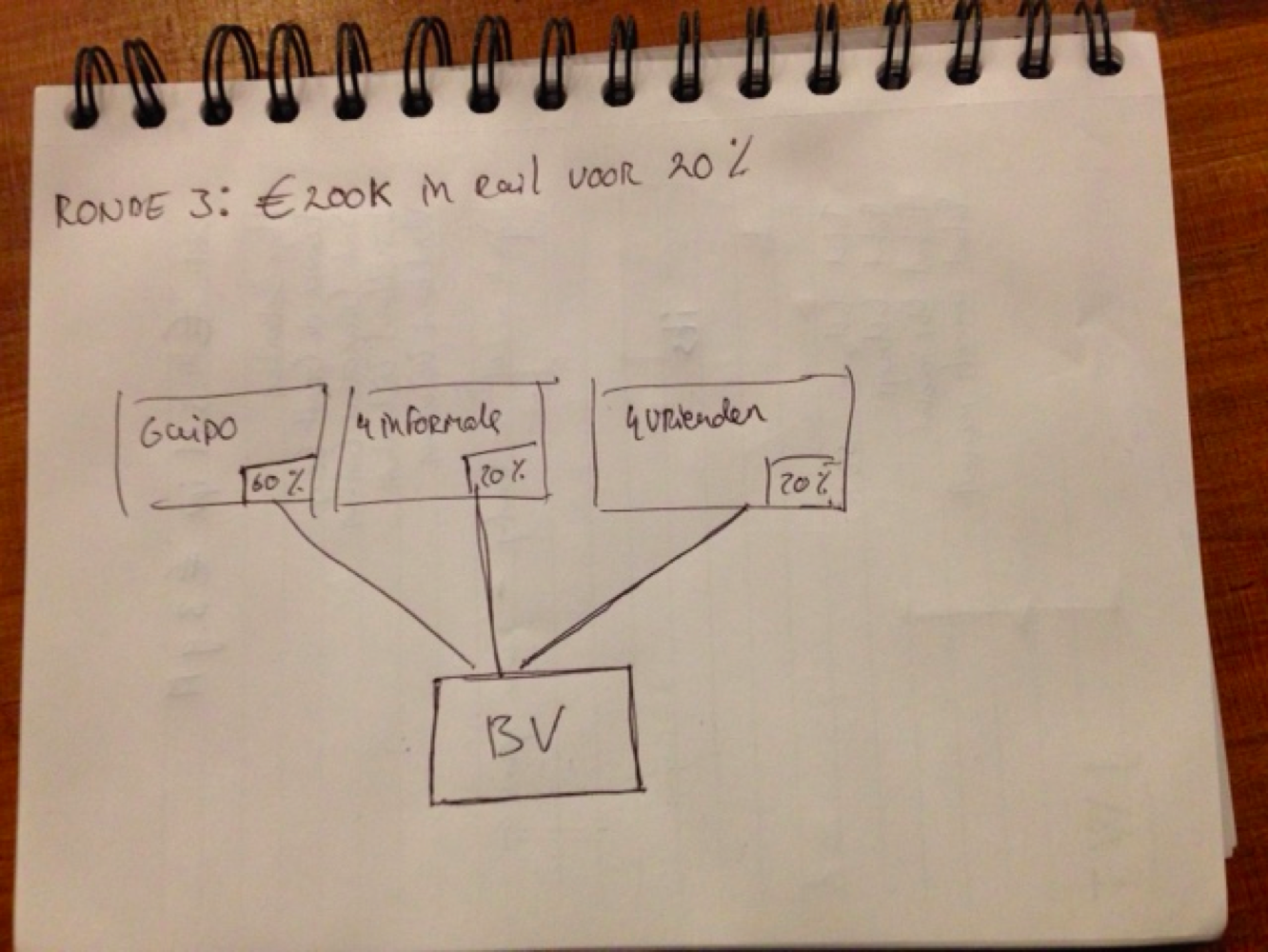 What did you learn during that period?
"I underestimated how much money it takes to market an FMCG company. Our focus is on all segments that lead to our goal. Burning a lot of pounds in Ethiopia is our motto, because we realize our impact in this way.
"In the meantime, we are focusing on B2B, but at the time the focus was still on online B2C sales. I had hoped that growth could be financed from then on from the gross margin, but then I found out that serious money was needed. I wanted to show that our inclusive 'new economy' business model can be just as profitable as the 'old economy' profit maximisation. To prove this, I wanted to convince an icon of the old economy, so I got in touch with Rijkman Groenink,the former CEO of ABN AMRO."
How did you convince Groenink?
"After a few sessions, I got him over the line with a three-pronged strategy:
Building your own brand.
The possibility to sell high volumes of white label in retail.
The opportunity to storm the local Ethiopian market.
"In this way, the risks of Moyee Coffee are as it were 'hedged'".
What was Groenink's biggest doubt?
"Whether we are able to reach enough volume."
Hedge of risk sounds fancy. What is it?
"I'm not Wikipedia but check it out there: Hedgen is concerned (in whole or in part) hedging a financial risk of an investment through another investment."
Back to funding round 4.
"Financing round 4: Rijkman Groenink invested €200K in exchange for ten percent of the shares.
Valuation: €2 million euros"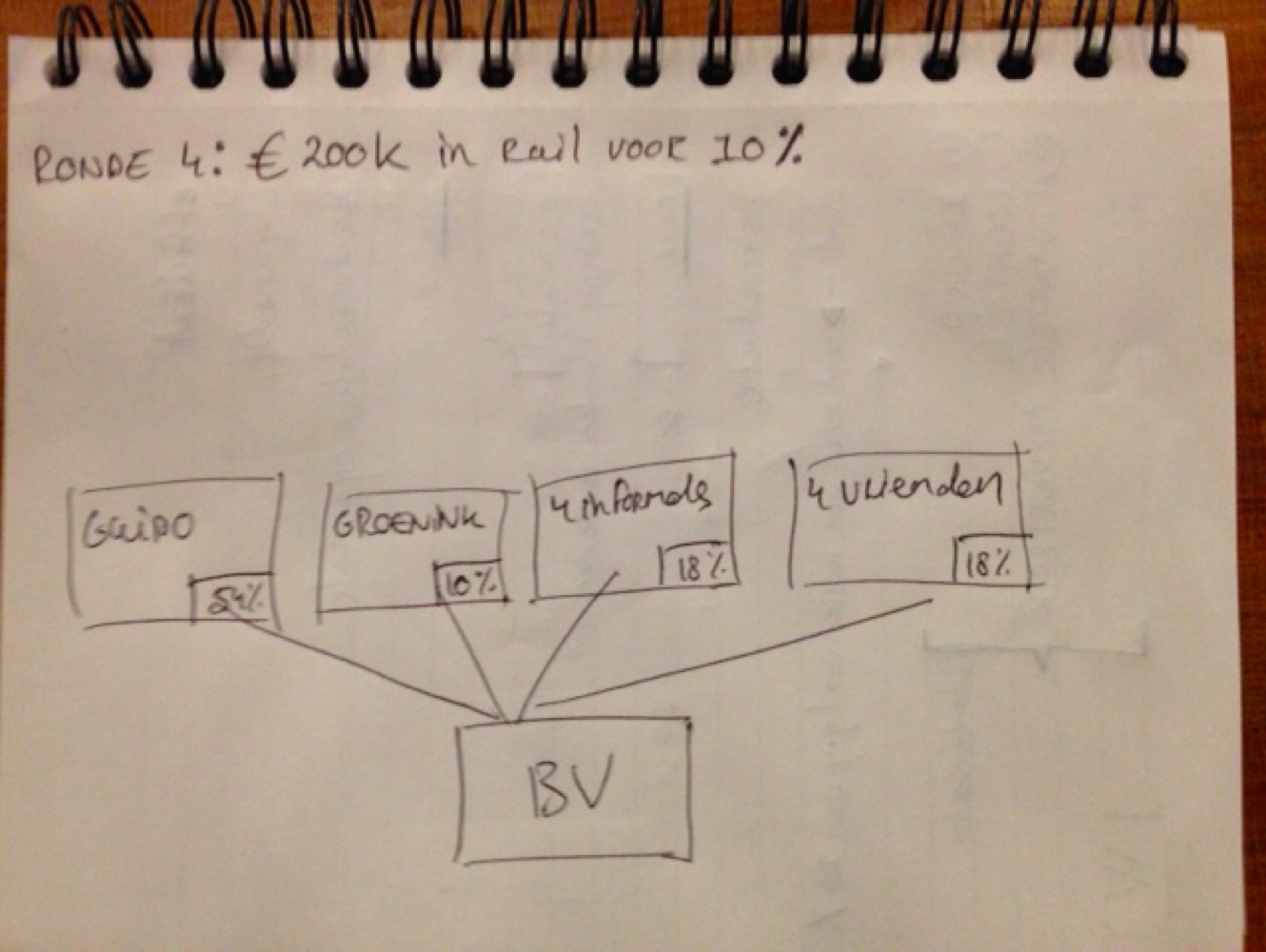 "Financing round 5: After Groenink's investments, the new investors flew in quickly. Round 5 consisted of a convertible loan of €500K
"Rating: N/A (due to the convertible note)"
Why now a convertible and no equity?
"In retrospect, I regretted giving away too much equity in the beginning, which is why I wanted to attract a loan rather than an investment. However, it is very difficult to attract a bank loan, which is why I opted for a hybrid model. The convertible loan was later converted into shares at the valuation set at the time."
What did Round 6 look like?
"Finance round 6: In this round I raised €1 million through several 'informal investors' in exchange for 33 percent of the shares.
"Valuation: 3 million euros"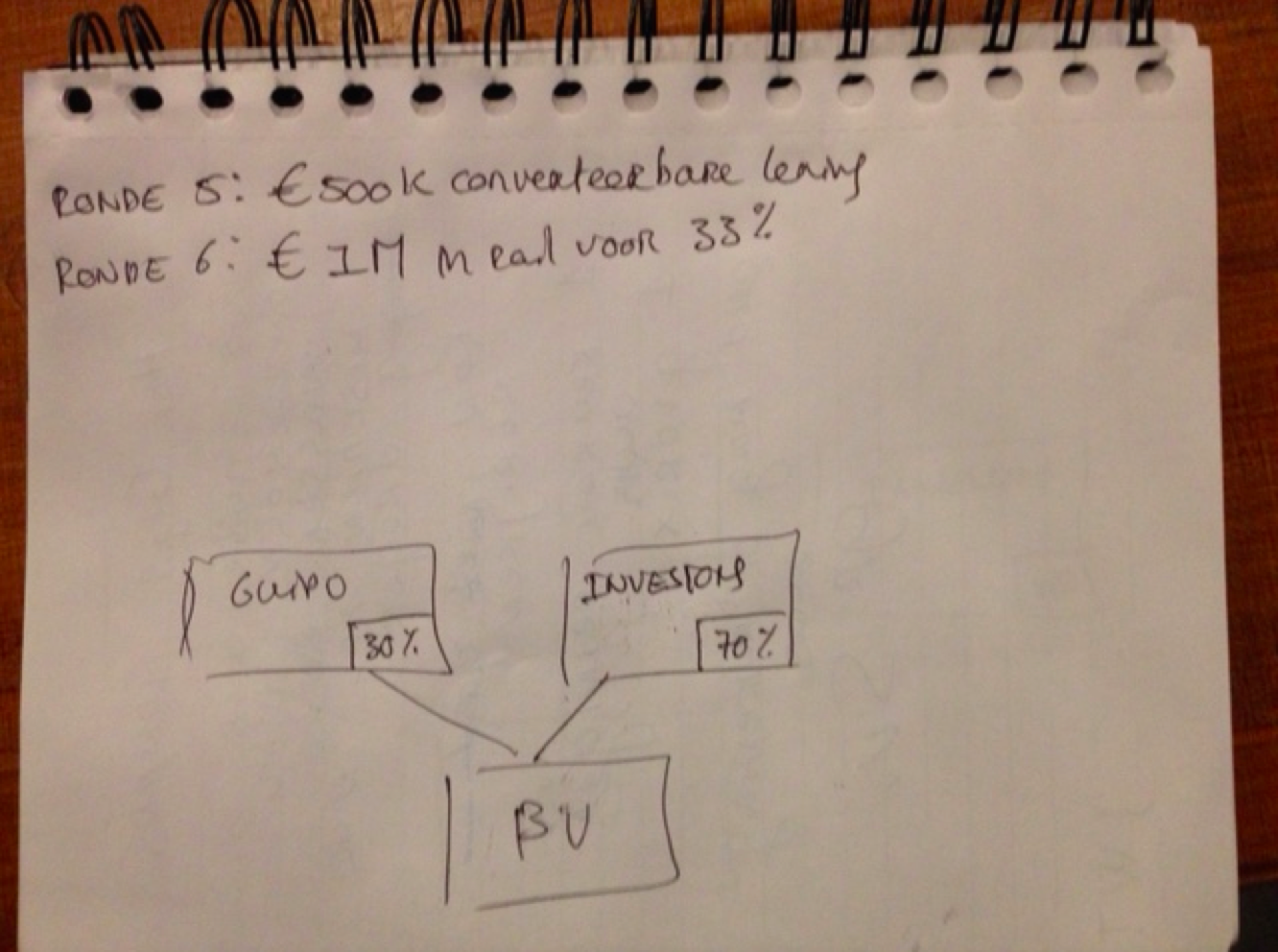 What about Round 7?
"Financing round 7: I am currently talking to a number of VCs for an investment of €2 million in exchange for 33 percent of the shares.
"Valuation:6 million euros"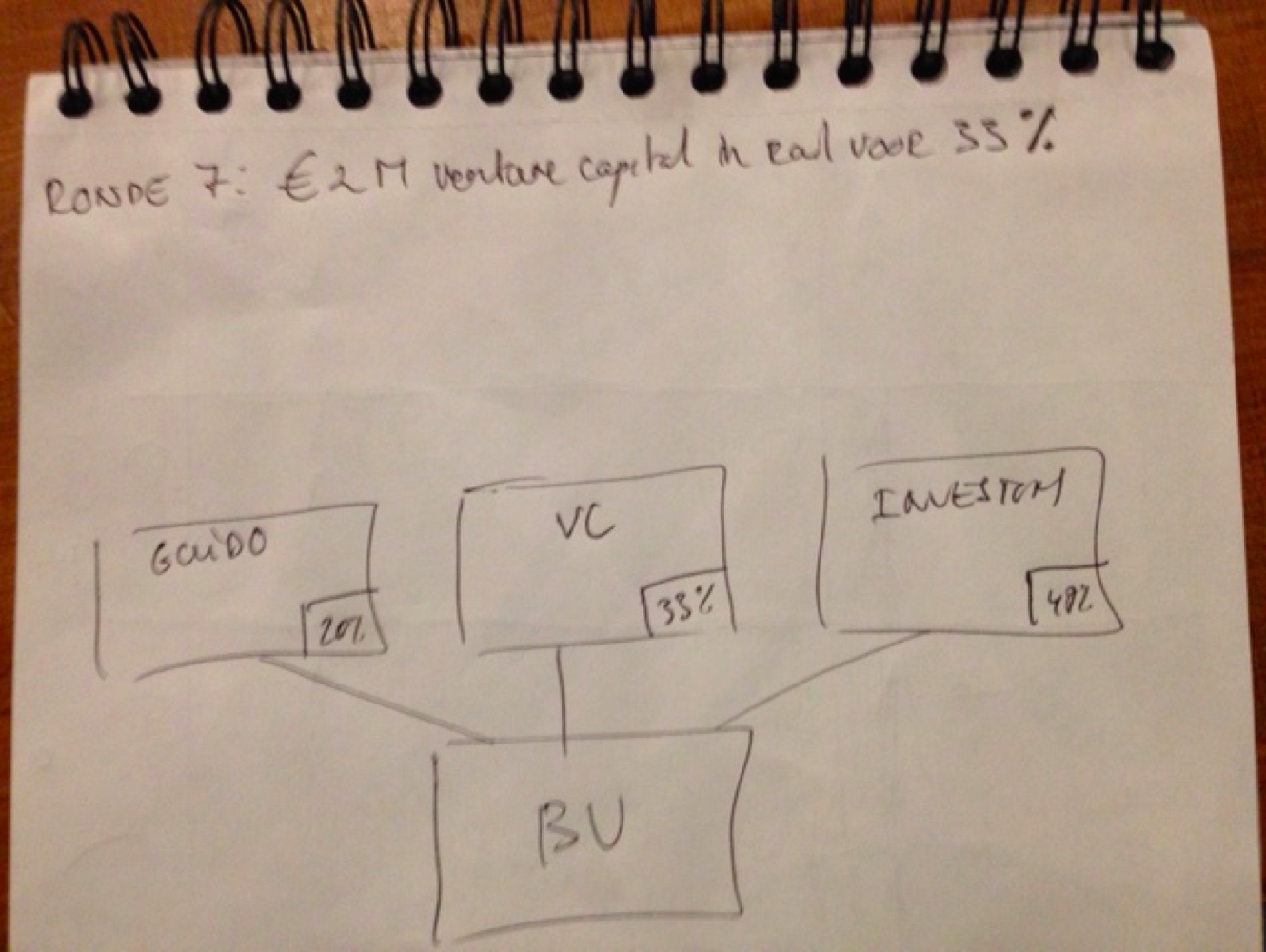 Aren't these too many rounds?
"Yes. I am now continuously engaged in fundraising and spreadsheet management. In retrospect, I would have liked to have raised the same amount in fewer rounds."
In addition to investments, does cash come in from sales?
"Haha, yes of course. I am honestly very satisfied with the turnover development. The turnover was as follows:
2014: €80K
2015: €300K
2016: €900K"
What is the gross margin on this turnover?
"30 percent in case of own sales and 15 percent in case we sell through resellers like MarQt."
Where does the €900K turnover come from?
"20 percent B2C and 80 percent B2B; 5% from retail, 50 percent from big business and 25 percent from the hospitality industry."
Are you already cash-flow positive?
"As of 2016, yes. I expect a net profit of €30K"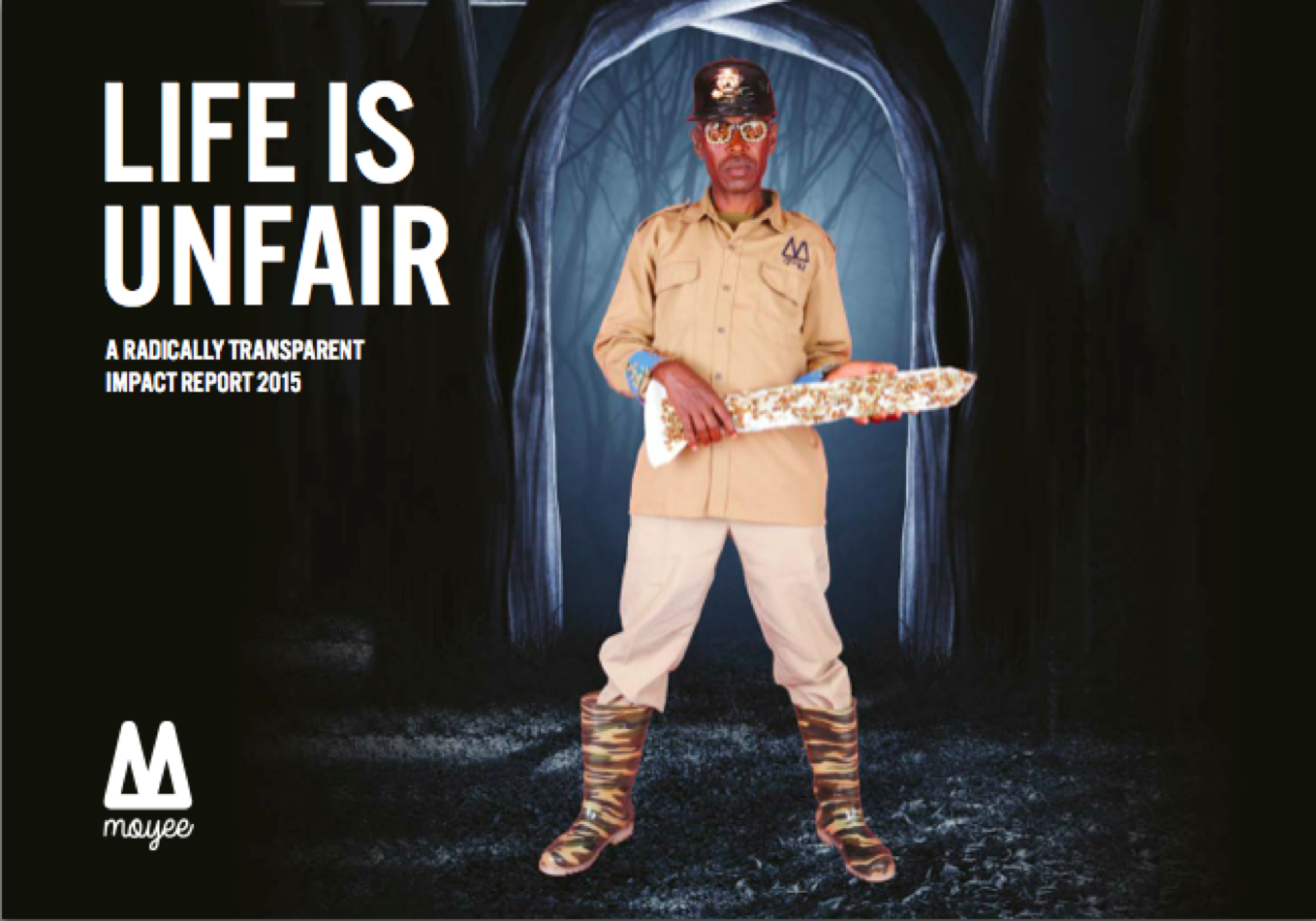 By the way, what did you do with all the money?
"At Moyee Coffee we invest in three-pronged impact. This is what we call our three moonshots: Economic, Social & Environmental."

"Economic impact: We have achieved a number of important things in this area.
We set up a 2,000 m2 coffee factory in Ethiopia.
We've created 18 new jobs in the world.
We burned 43,000 kilos of Fairchain coffee in Ethiopia and sold 3.7 million cups of Fairchain coffee."

"Social impact: A number of important things have also been achieved in this area.
First ISO certified coffee roastery in Ethiopia and also one of the first in all of Africa.
Six women (35%) working in the factory. This is a very high percentage for the male-dominated Ethiopian economy and society.
We pay a 20 percent premium above the prevailing market price. We have so far paid an extra €26,000 to farmers above the market price. In the future, this amount will grow exponentially (as will the turnover). We also involved 100 small farmers in our project."

"Environmental impact: In the first years our focus was on building the 'business fundamentals' and on building a socially responsible factory in Ethiopia. Looking ahead, we will also focus on 'environmental impact'."
You propagate to have Clooney-free coffee; Would you like clooney as an investor in Moyee Coffee?
"Haha, I have nothing against Clooney. He seems like a nice, honest guy. The only thing I object to is that the big coffee companies spend so much money on marketing. We prefer to share that money with our customers or with the Ethiopian farmers (it should bring benefit to there AND here). Crowdspeak rather than famous faces is our motto."
You have a talent for raising funding. Why are you doing this well?
"There are five reasons why I can do this:
Creativity: My plans have a high degree of creativity.
Numbers: My plans are well calculated: I leave nothing to chance.
Risks: Because of my experience, I can assess risks well.
Ambition: I have a healthy dose of ambition.
Network: I have a large network in different corners of society."
Enough about money. What is your vision for Moyee Coffee in 2025?
"Moyee Coffee is a Douwe Egberts 2.0 with an expected annual turnover of €80 million. By then, we have really realized the Fairchain idea."
Don't you secretly just want an exit to Nespresso?
"Never in my life!"
What do you see as a big challenge during the trip from €1M to €10M annual turnover?
"Interesting question. I see 8 key challenges:
Keeping strategic focus on building a brand and accelerating sales through white label.
Boosting online B2C sales.
Raising "brand awareness" through "playfully provocative" marketing.
Increase B2B sales by encouraging consumers/employees to let their employer purchase Moyee
Increasing sales through the hospitality industry.
Launching Moyee abroad. We are already working in Ireland, Denmark, Dubai.
Attracting high-quality people without losing the Moyee DNA.
Finding a good CEO who's going to take over from me at some point. I'll take this company to an 8 and then the new CEO can take it to an A. However, in the coming years I will still sit down :-)"
My mantra is: you pay for the quality of the coffee and not for the impact.
What are Guido van Staveren van Dijk's entrepreneurial lessons?
"When setting up B2C company in the Fast Moving Consumer Goods it is important to raise a lot of capital.
If you are positioning yourself as a 'social impact company' it is important that you do not figure yourself out of the market in terms of price. Consumers also remain very price conscious of 'social impact products'. My mantra is: you pay for the quality of the coffee and not for the impact.
When picking up a large investor ia it's important that you already have a letter of intent from a retailer with large volume. That gives an investor the confidence that you can make the step from startup to serious player.
"Underpromise, overdeliver." If you achieve your targets structurally, then it is a lot easier to get follow-up funding.
Dare to fail. Even Neelie Kroes now says that a bankruptcy in your name is a useful lesson instead of a 'red flag' on your resume.
When you grow from a startup to a scale-up, it is important to maintain and manage your original DNA.
Generate 'free publicity' through provocative campaigns. Distinguish yourself from competitors by a strong story, otherwise you snow under.