Let's get those hard, dark, full and amazingly flavorful aromas in your cup! And with the Moka pot you get perhaps the tastiest, most pure, syrupy and robust espresso.
Especially if you execute this Brew Guide well you become a real coffee artist.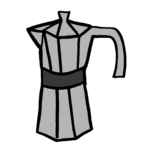 – Moyee coffee
– Moka pot
– Grinder
– Water
– Kettle
– Timer
– Scale
TIME: 4 min
DRY: 20 grams of coffee
RATIO: 1:7
MALING: Espresso grind
WATER: pH7
1. Fill your mocha pot with just non boiling water, until just below the small pressure valve.
2. Put 20 grams of coffee in the basket (the basket should be filled) with ground coffee and gently mash it with your fingers. The coffee should be as fine as Espresso grind.
3. Screw the top of the Moka pot, but beware: the bottom becomes hot. Don't burn your fingers!
4. Now it's time to make this great coffee:
Put your moped on a low heat.
Be patient; it may take a minute (or two).
5. Do you smell the aromas? That means the coffee finds its way up. As soon as the coffee shows itself and starts falling into the Moka pot, remove your Moka from the fire. You can also put it on a wet towel to lower the temperature. This also slows down the extraction.
6. Make sure you don't leave coffee in the Moka Pot for too long. You want a strong, syrupy espresso with a full flavor. You can tell from the dark color that the coffee still contains its oils, fats and all aromas. As soon as the colour brightens, you have let the brew boil for too long. So don't do that! Enjoy your Moka pot. Make sure it's FairChain!