What is a Microlot anyway?
New generation new techniques
Een jong Colombiaans stel verbouwd deze koffie. Zij hebben alle kennis meegekregen uit de familie, maar blijven zelf toch op zoek naar nieuwe technieken om next level smaken te ontdekken.
Eerst fermenteren zij de boon met bes in de buitenlucht tot wel 36 uur, daarna zetten ze alles in afgesloten tanks voor nog eens 24 uur. Anearobic fermentation wordt dit ook wel genoemd. Hierdoor trekken nog meer smaken van de bes nog meer in de boon en wordt de koffie fruitiger. De regio waar deze boon vandaan komt heet niet voor niets El Diamante.
De Microlot La Plata wordt verbouwd door Derlin Roa en Diego Campos. Dit coffee-power-couple heeft de wereld afgereisd en de prijzen kast gevuld met World Championship Barista bekers, van wedstrijden in Colombia tot Londen en Milaan.
Nu hebben zij zich terug getrokken en wonen ze op het platteland. Samen met koffieboer Elias Roa (herinner je de Microlot Huila nog?), neemt dit jonge Colombiaanse koffie verbouwen 'to the next generation'. Met hun jong en gedreven geest kijken zij elke dag hoe ze nieuwe smaken in hun boon kunnen krijgen op hun boerderij in El Diamante, La Plata.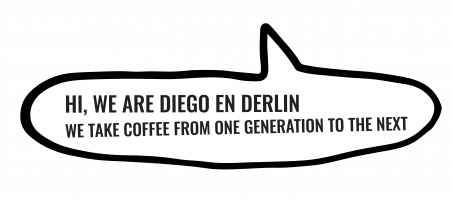 ROASTING AS LUIS FERNANDO
Luis heeft het zijn levens missie gemaakt om de beste bonen te vinden en deze tot in perfectie te branden. Om elke variabel in het brand process te controleren en tot in perfectie uit te werken, maakt Luis eerst test-roasts in kleine batches. Als hij de perfecte brand profiel heeft gevonden, stapt hij over op het grote werk.
Voor de La Plata heeft Luis gekozen voor een medium roast, waardoor de fruitigheid naar boven komt samen met noot-achtige ondertonen. Geniet van deze smaak bom!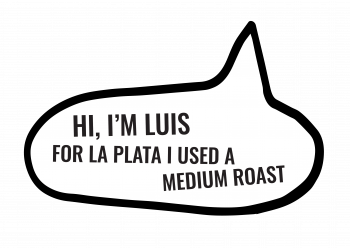 Country of origin: Colombia
Region: Huila
Plaats: La Plata, El Diamante
Hoogte: 1950m
Process: Washed
Quantity : 250 kg
IN SEARCH FOR THE BEST CUP
Our visit to beautiful Amor Perfecto in Colombia. Altijd goed om mede impact makers en helemaal FairChain strijders op te zoeken zoals Luis.
Don't have a filter machine at home? Or don't you want to put all Microlot beans in your machine right away? But do you want to enjoy this de Huila?
Then this V60 set is just the thing for you!
V60 set + grinder + Microlot: Now € 60
With this package you grind the beans fresh at home and easily make a cup of FairChain Microlot coffee. With the V60, get everything out of the Huila, from deep chocolate and almond flavors to the fruity notes of green apple.
This package contains:
Hario V60 set
Hario hand grinder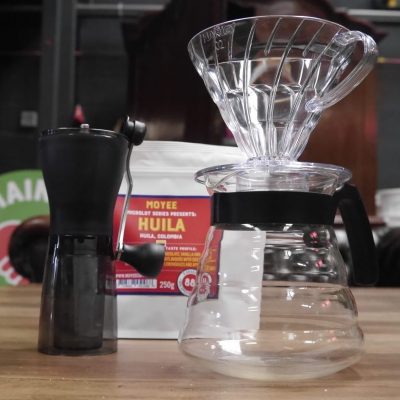 Sign up for our newsletter now and be the first to know about our upcoming new Microlots. As we roast them in small batches, we sell out very fast. After coffee subscribers, newsletter subscribers always have the first load, then it's 'first come, first served'. So sign up today!